St. Nicholas Catholic Church, Carver, MN
Announcements
Faith Formation October Bulletin
See what our children are up to - October Bulletin
Future of St Nicholas - Oct 28 Update
We continue good progress on the task to deliver to Archbishop Hebda our recommendations for the future of St. Nicholas parish.
Here is a brief update:
On September 25, we sent a letter and paper survey to all "Registered & Active" households of St. Nicholas. This was a total of 778 households. 105 letters have been returned by the Post Office as being non-deliverable. We have also posted the letter and survey on the St. Nicholas webpage and FaceBook page. In addition, I placed 6 yard signs (4 at St. Nicholas and 2 at Guardian Angels) inviting people to visit the webpage or scan the QR code for the survey.
We have received survey results from 166 persons (104 online and 62 paper surveys). 22 people volunteered to be a working group helping to interpret and summarize the input from the 166 people. The survey has given us statistical data in the form of graphs and percentages. Your input has also given us 7 pages (single spaced typed) of comments that help add context to the statistics. I have high confidence in our plan to be able to provide the recommendation to the Archbishop by his requested date of January 1, 2021. Please continue to pray for this process and for all involved that God's will be done.
May God continue to protect, guide, and bless you and your family.
Deacon Jim
(612) 405-0116
2020-2021 Faith Formation
The 2020-2021 Faith Formation program is up and running. The Faith Formation page has sign up information. Contact Barbara Minzel at 612-310-3612 if you have additional questions.
Weekly Bulletin Emailed to You:
You can have the weekly bulletin automatically emailed to you. Follow this link to sign up and the bulletin will arrive to each each Thursday night.
Everyone is welcome to enjoy the serenity and peacefulness of our prayer garden. We invite you to enjoy the sweet fragrance of hundreds of roses in full bloom. If the spirit moves you, we welcome all volunteers of any interest or skill level as we have many opportunities.
Please continue to bring us your aluminum cans and drop them in the receptacle in the parking lot. Please do not place bags or boxes inside the collection unit, the recycling company has notified us they will no longer accept our cans if there are any bags or boxes inside the container.

Prayer Garden Video - August 2019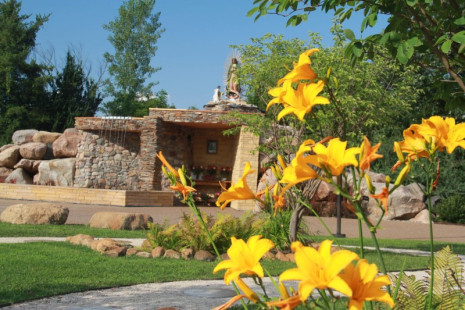 ---
Posted on: August 26, 2020